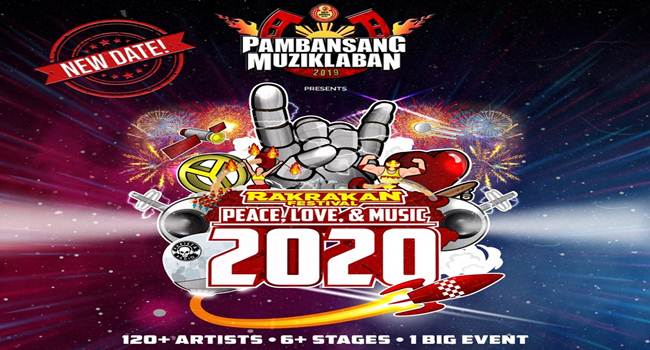 RAKRAKAN FESTIVAL 2020
RAKRAKAN FESTIVAL 2020 IS RESCHEDULED!
Just a day after Valentine's, the organizers of Rakrakan Festival 2020 had officially announced the postponement of the said event in compliance with the advisory from the Department of Health and Department of the Interior and Local Government due to recent news on Corona Virus (2019-nCoV ARD).
According to DOH's statement, the public are urged to avoid attending, participating and organizing events that draw a significant volume of attendees in order to minimize the risk of novel Coronavirus contraction. In addition, the Rakrakan Festival organizers firmly believes that safety and audience welfare must—and should be—every event's top priority.
However, on a lighter note, Rakrakan Festival 2020 will be RESCHEDULED to a later date—APRIL 25, 2020! Still happening in the same venue, CCP Open Grounds, this year's peak of summer is indeed festival-worthy. Plus, more time for surprises especially in the current artist lineup!
Tickets are still available in all SM Ticket outlets nationwide. Note: For those who have already purchased their tickets before the rescheduling, please be informed that they are still valid upon entrance—NO NEED to refund or re-purchase!