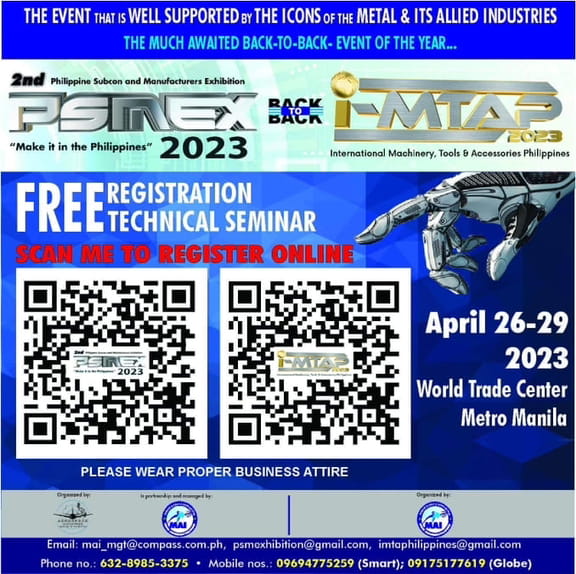 PSMEX and I-MTAP 2023 back to back at World Trade Center Metro Manila
The countdown begins to the much awaited event of the year!
Well supported by the icons of the metal and its allied industries, the 2nd Philippine Subcon and Manufacturers Exhibition 2023 or PSMex 2023 themed as "Make it in the Philippines" back-to-back with International Machinery Tools & Accessories Philippines or I-MTAP 2023, will be held from April 26-29, 2023, Hall B & C of World Trade Center Metro Manila. Entrance is free to the public.
PSMEX 2023 caters to the needs of the Aerospace, Automotive, Electronics and Motorcycle manufacturing industries, while I-MTAP will showcase state-of-the-art products from the metal and its allied industries from leading manufacturers, subcontracting companies, services, local distributors as well as foreign suppliers.
Take advantage of over 20 free technical seminars to enhance your knowledge and awareness about the latest technology and the industry.
For more information, email mai_mgt@compass.com.ph or contact them at 0969-477-5259. See you there!