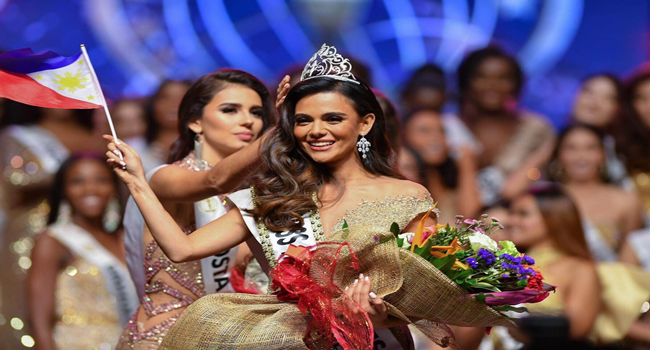 Karen Gallman makes history, wins Miss Intercontinental crown
Philippine representative Karen Gallman made history on Sunday morning, January 27, when she won the country's first ever Miss Intercontinental crown.
The 26-year-old analyst from Ubay, Bohol bested 83 other official delegates in front of an ecstatic home crowd.
Gallman is the second queen from the 2018 batch of Binibining Pilipinas winners to notch an international crown. Just last December, Catriona Gray made the Philippines proud when she won the country's fourth Miss Universe crown in Bangkok, Thailand.
Adriana Alvarado of Costa Rica was first runner-up; Laura Longauerova of Slovak Republic was second runner-up; Hillary Hollmann of Colombia was third runner-up; Ngan Anh Au Le of Vietnam was fourth runner-up; and Bella Lapso of Ethiopia was fifth runner-up. Gallman was crowned by last year's winner, Veronica Salas Vallejo.
Asked what her definition of success was during the final question and answer round, Gallman said, "For me, success is not just about winning in life, but setting goals, smaller goals, and achieving your dreams, and working hard for everything you want and always looking up to God and being thankful for everything. For me, that is success," as the crowd erupted in cheers.
Last year, the Philippines also came close to winning the Miss Intercontinental crown when Katarina Rodriguez emerged first runner-up.
Gallman's victory further cements the Philippines' reputation as a pageant powerhouse and Binibining Pilipinas' status as the most prestigious pageant in the country, if not the Asian region.
For more updates, visit bbpilipinas.com and follow our social media pages: @realbbpilipinas on Facebook and Twitter, and @bbpilipinasofficial on Instagram.