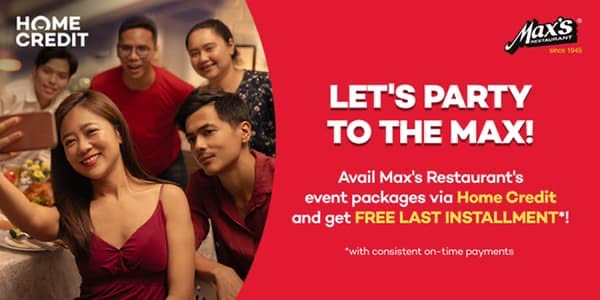 Celebrate life's meaningful moments at Max's Restaurant through Home Credit
Enjoy Max's party packages via flexible monthly payments through Home Credit's Qwarta and HC Credit Card
Let the good times roll! Pinoys are known to be lovers of food and fun that bring everyone closer. Whether birthdays, class reunions or kiddie parties, Filipinos always make a way to share their blessings and celebrate milestones and special moments with friends and loved ones!
To offer Filipinos better ways to make their wonderful celebrations memorable and affordable, the lifestyle partner of every Filipino Home Credit Philippines expands its services and offerings to Food and Beverages, starting with its partnership with Max's Restaurant.
Customers can enjoy a Sarap to the Bones experience with their loved ones in every special occasion by celebrating at Max's Restaurant without breaking the bank! So if you're looking for a sign to go a little extra on the family's holiday celebrations, this is it!
Party Now, Pay Later
A staple in every Filipino's childhood and adulthood, Max's Restaurant has always been a venue for family gatherings, with almost 200 branches nationwide. Their themed party packages — from kiddie party with goodies and a mascot for children, elegant wedding package to christening package, enjoyable group meeting, or other fun event packages — are all-inclusive of a decorated venue and a wide selection of food and programs to serve their beloved customers.
Good news! Celebrations do not have to put your budget to the max. Now with Max's Party Gives offering, customers can enjoy any special occasion at select Max's Restaurant through an affordable monthly installment plan with Home Credit. Get that well-deserved party time without a hassle by choosing and customizing the suitable party packages that fit your liking.
Home Credit Qwarta users can avail of an exclusive 5 percent off for any of Max's party packages. Simply download the My Home Credit App via mobile, register, and enjoy this promo and other app-user benefits, such as paying your bills contactless with no extra charge and rebates when you scan-to-pay in-store.
Pinoys can also party now and pay later through Home Credit Card. Both Qwarta and Home Credit Card offer customers their last installment for FREE for consistent on-time payments of their Max's Restaurant party package transactions.
What are you waiting for? Come and party to the max! Visit any participating Max's Restaurant to avail of their latest party promo. Download the My Home Credit App to learn more about Qwarta and Home Credit Card offerings.
Home Credit Philippines is a financing company duly licensed and supervised by the Securities and Exchange Commission (SEC) and by the Bangko Sentral ng Pilipinas (BSP). To learn more about the latest updates from Home Credit Philippines, visit its official website www.homecredit.ph. You may also follow its official Facebook, Instagram, and TikTok accounts. Customers are encouraged to download the My Home Credit app on Google Play to know more about the latest promos and see what is new in the Marketplace.