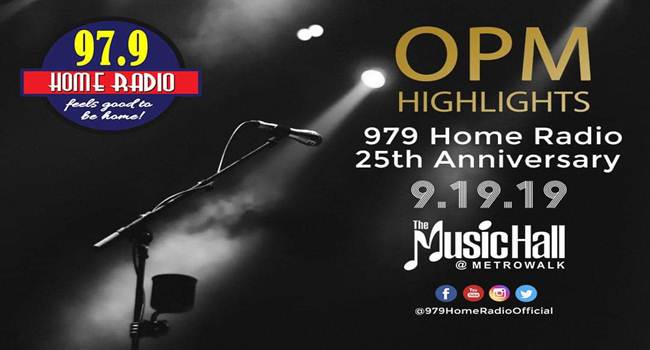 #979HRO25th Anniversary Concert
On September 28, 2019, marks the Silver Anniversary of 979 Home Radio and celebrated its 25th Anniversary, at the Music Hall Metrowalk, Pasig last September 19, 2019.
Promoting OPM Highlights – PILOT Program launched January 14, 2019 promotes pure OPM Music for one full hour (every Monday-Friday 12 Noon – 1 PM). Features live performances of popular, emerging and uprising artists. The program can be viewed via Facebook Live and uploaded performances on YouTube Channel-979HomeRadioOfficial.
"We were not expecting a lot of guest artist/performers…at first, it was just 8 and we were suprised that the OPM scene really wanted to support and celebrate our Anniversary. I would like to thank each and everyone for the support to our company IBSI and to our station 979 Home Radio, It Feels Good To Be Home".
Mr. Braggy mentioned.
Guest Performers/Artists:
Jaya – The Queen of Soul, Star Music, Cornerstone Entertainment
Jay R – The King of RnB, HomeWorkZ Music
Kris Lawrence – The Prince of RnB, HomeWorkZ
Anthony Rosaldo – Matinik na Heartthrob ng The Clash, GMA Music/Artist
Sharlene San Pedro – Actress/Singer/VJ, Ivory Music
Marion Aunor – Singer-Songwriter, Viva records
Janine Teñoso – Viva Artist/Singer-songwriter, Viva Records
Selena Marie – known as the "Ukelele Girl", PolyEast Records
Drei Raña – Acoustic Artist, PolyEast Records
Mark Oblea – Singer/Artist, Universal Records
Jex de Castro – TNT's 6 time Defending Champion, Viva Records
John Rendez – Rapper/Actor, Star Music
Paolo Mallari – Singer-songwriter, Universal Records
Jana Garcia – Alternative Rock, Warner Music
Bands:
Soapdish – Pop/Rock, Viva Records
Imago – Rock, Universal Records, Soupstar
Gracenote – Electro-Pop-Rock, Viva Records
KEN – Synth Pop and Electronic, Warner Music
The Vowels They Orbit – Indie Pop-Rock, Sony Music, Soupstar
Never The Strangers – Alternative Rock, Ivory
Sandiwa – Alternative/Indie, Ivory
Room for Cielo – Pop Alternative, Ivory
Iktus – Alternative Rock, Ivory
Eevee – Alternative Rock, Ivory
Some of the student DJ's of the previous format (979 Home Radio,
Home of the Millennials because we play "The Music of Now") went to witness the
concert.
Isuzu GenCars
Philippine Veterans Bank
Mossimo
Sweetielicious by Chef Jojo Javier
Eternal Gardens
The Music Hall at Metrowalk
BladePh

Insular Broadcasting System Inc. is headed by
D. Edgard A. Cabangon – Chairman
D. Adrian C. Cabangon – President
Roderick "Braggy" L. Braganza as Station Manager
Cipriano "JunDJ" Bautista – Programming Supervisor
Lawrence Dimalanta – Production
Niño Myrrh C. Tarinay – Social Media Manager
Thank you to all the listeners and followers for continuously supporting our station and the artists. 
We would also like to thank Aliw Broadcasting Corporation:
HR/Admin Dept.
Engineering Dept.
Marketing Dept.
Sales Dept.
Finance/Accounting Dept.
Traffic Dept.
follow us and subscribe:
Facebook, YouTube, Instagram and Twitter : 979HomeRadioOfficial
#979HRO25th #OPMHighlights #979HomeRadioOfficial #FeelsGoodToBeHome
nmct0930219